Specials
From SRoMG Explained
The "Specials" page is for comics that are too short-term topical for the normal queue. It was presumably created for the 2010 World Cup, as the only two strips there both reference it.
Special #1: "Cat Watching Sport"
[
edit
]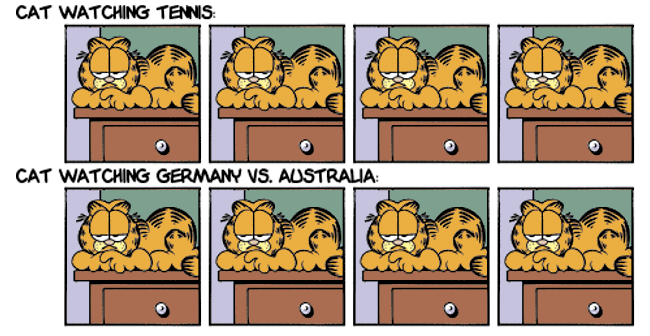 by Manyhills
Explanation
[
edit
]
Tennis, as most people know, involves a ball being hit back and forth between two places; hence, a cat watching the sport would follow the ball. "Germany vs. Australia" refers to the Germany vs. Australia match in the 2010 World Cup, in which Germany scored four goals while Australia scored none - hence why Garfield is only looking at one side, since only one team is scoring. (The four panels may also refer to the number of goals Germany scored.)
Original strip: 2006-06-23.
Special #2: "Cat Watching England vs USA"
[
edit
]
by D Headshot
Explanation
[
edit
]
This comic references the England vs. USA match at the 2010 World Cup. The match's coverage on ITV HD was accidentally interrupted three minutes in by a commercial for Hyundai cars, and viewers missed England's only goal of the night. People were outraged, and ITV apologized. This comic recreates that moment by editing two Garfield strips together.
Ah satire, is there anything you can't do with Garfield? Original strips: 1982-03-11, 1982-05-23.